our bloggers

Heather (Virginia)

I am a mother of five children, one darling daughter and four dashing sons. When I am not wrangling with their schedules, I can be found teaching my 25 piano students, substitute teaching or RUNNING! I am a ten time marathoner with 5 dreamy "Boston" races under my belt. I run for peace. I run for fun. I run to eat. Speaking of eating, I have a passion for chips and guacamole, hummus and CANDY (any kind will do). I love being inspired. Music, nature, words, strangers, friends and a loving Heavenly Father grant me inspiration daily. How grateful I am for it.

Shasta (Texas)

Howdy from the great state of Texas! I am married to my best friend and we are enjoying every day with our 3 silly children. I enjoy cooking, gardening, and not sweating the small (or dirty) stuff! I believe that life is 90% attitude and 10% what happens to you.

Shannon (Oregon)

I write from my home by the sea in Seaside Oregon. I am dedicated to improving the lives of women and children and I love to serve others. I have worked as a domestic/sexual assault crisis worker, trauma recovery specialist and in many other capacities. Currently I follow my passions by writing for BillionClicks.org, FamilyShare.com, spending time with her family, serving at church, running on the beach and being a generally all around positive person.

Rebecca

I grew up in the northwest and am currently settled in Utah with my husband and four sons. I love writing and especially love learning from other people's inspiring examples. I teach preschool and also work at a residential treatment center for teenage girls. I love reaching out to struggling youth. In my spare time I'm trying to teach myself how to crochet. I also enjoys reading, hiking (in perfect weather conditions), and spending time with my family.

Hilary (Utah)

I love anything coconut - especially coconut ice cream! (I felt like I should start with the most important information first!) My husband and I have been married for 21 years and have four beautiful, fun-loving daughters. My favorite thing in the whole world is to be with my family - it doesn't matter if we are working or playing - I just love being together. I am also a scrap-booker, singer, songwriter, wanna-be-cook and dessert lover. We love living in Utah.
---
You can help.  Copy the code below and place on your site, blog, tumblr, pinterest, etc to help us spread the word.
<a href="http://www.billionclicks.org/"><img
src="http://i1248.photobucket.com/albums/hh486/billionc/bc_button_orange.jpg" border="0″></a>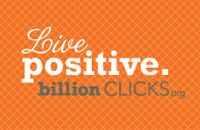 ---